Table of Contents
Installation
24V/1A DC is required to power converter. Standard consumption is lower, but switched-mode power supply requires high inrush current.
Peripherals description
---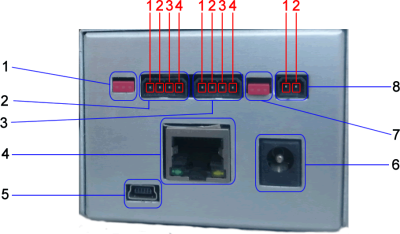 Jumper - RS485 terminator

RS 485 [C-bus] connector

RS 232/MMI connector

Ethernet

USB Slave

Do not connect

Jumper - MMI power supply bridge between RS 232 DB9 and port 3.

Power supply 24V DC
RS 485 connector
RS 232 connector
Power supply 24V DC
-24VDC

+24VDC
With reverse polarity protection
---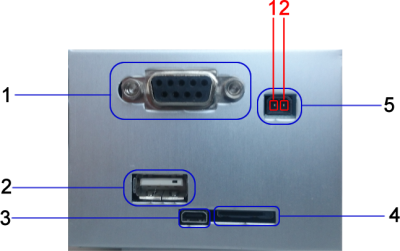 RS 232 DB9

USB Host

HDMI Do not connect

Micro SD slot

M-Bus
M-Bus connector
M-Bus

M-Bus
With protection against overvoltage and short circuit

In the event of prolonged short-circuit situation, converter will reduce output voltage. To restore converters function it is required to break converters power supply.
---
Linux COM port names
  RS485 - /dev/ttyO5
  M-Bus - /dev/ttyO4
  RS232 DB9 - /dev/ttyO1
  RS232 MMI - /dev/ttyO2
---
First run
From factory settings, converters IP address is set to 192.168.0.202. You will be able to connect to converter by setting your IP address in range 192.168.0.XXX with net mask set to 255.255.255.0
Converter requires about 1 minute to start all services with web interface. Web inteface should be accessible on web address http://192.168.0.202
Login page will be displayed after successfull connection.

Default credentials are:
Username: root
Password: 123
By pressing Login button you will log in.

It is recommended to immediately change default password, especially when device is visible on public network

Credentials to web interface are identical with credentials used for ssh.
Changing password
You can change your pasword by clicking on your username located in menu below logo. Small context menu should pop up with option to Change password.
---
Changing system language
Integrated helper